A sweet duo of fine metal outside the Wellington Intercontinental, one of the hotbeds to sight exotic vehicles in Wellington. The rare Aston Martin Vantage N430 and a black Bentley Bentayga SUV.
Inspired by the rich racing pedigree history, the Aston Martin V8 Vantage N430 was released in five unique specifications. This particular Vantage 430 is the 'Race' model.
'RACE'
Alloro Green exterior paint with yellow accents from the ClubSport Graphics Pack option. An instantly recognisable theme inspired by Aston Martin's legendary Le Mans winning racer – DBR1.
Along with colour comes purposeful dark finishes. Adorning both the front grille and window surround, the V8 Vantage N430 combines lightweight graphite grey wheels, again inspired by the CC100, as dark features balance bold liveries.
Inspired by the CC100 centenary concept car and with a clear link to Aston Martin motorsport heritage. Yellow grille surround, mirror caps, rear diffuser blade and, for the coupe, roofline are adorned with contrasting colours based on the chosen exterior colour scheme. Sporting brake calipers add further visual distinction. Available in both Coupe and Roadster formats.
V8 ENGINE
The magnificent 4.7litre V8 unit sits at the heart of the Aston Martin N430 produces 436PS. Searing performance and a defined sense of purpose, positioned as low as possible to improve cornering and stability. This same V8 engine powers all the GTE and GT4 race cars with only minimal specification changes.
4.8 seconds is all it takes to complete the 0-62 mph dash. Starting at £90,000 when new in 2014, the N430 would make a great addition to any garage.
The Bentley Bentayga, parked next to it is a mid-size, front-engine, all-wheel drive, five-door luxury SUV crossover marketed by Bentley, first released in 2016.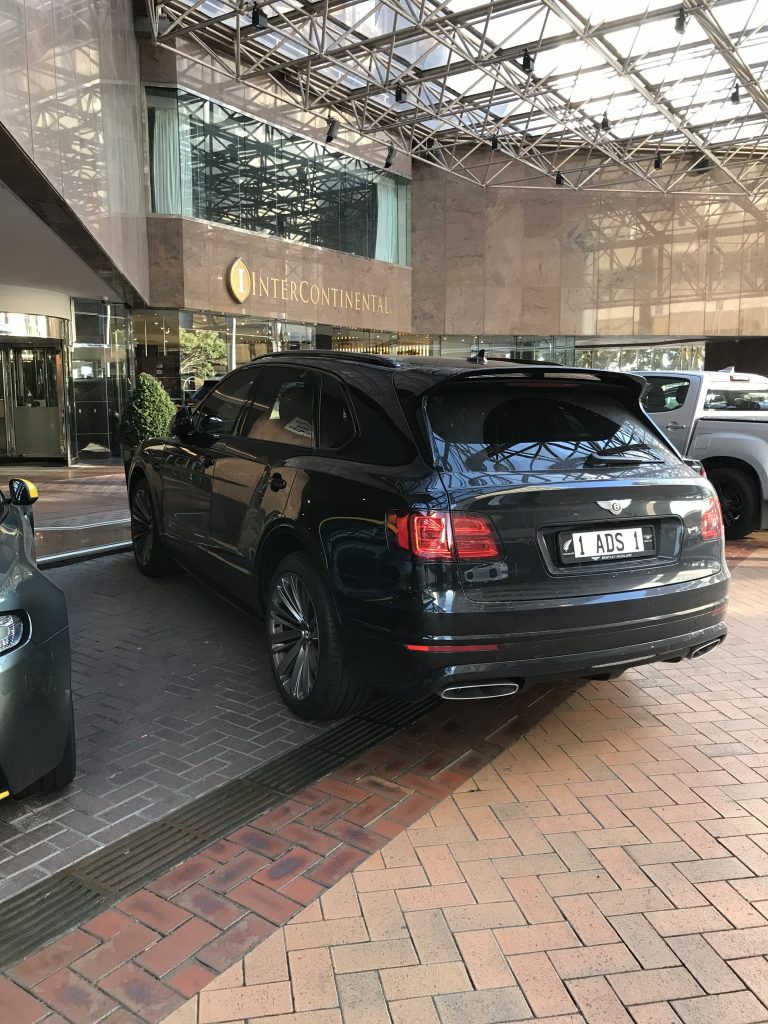 Starting at £163,000 the Bentley Bentayga is the first SUV model from the Bentley range, following a line of luxury grand tourers. This particular model was the 2020 Bentley Bentayga Speed finished in black featuring the 22 inch 10 spoke speed alloy wheels.
Quite the pairing of vehicles in the foyer of the Wellington Intercontinental.
Which do you like most, the Aston Martin V8 Vantage N430 or the Black Bentley Bentayga Speed?